Online Training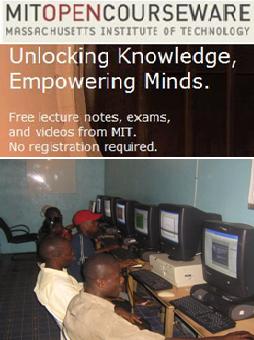 About OTP
The objective behind this platform is to empower trainers or/and trainees with free resources, offer them a structured collaborative space to share their training but also to promote and value the "open" training materials, which are freely and openly accessible for trainers and self-learners to use and re-use for non commercial purposes such as teaching, learning and research.
The Communication and Information Sector of UNESCO has been developing this open training platform available on line, to build the capacities of local people and to also build capacities of specialized communities (Trainers, educators, decision makers & policy makers, entrepreneurs, farmers, scientists, media people, librarians, archivists & information specialists, cultural actors, health specialists, environment specialists, development & social worker or civil servants) through ICT-enhanced training.
MIT
Open
Courseware
Free lecture notes, exams, and videos from MIT. No registration required. MIT Open Courseware (OCW) is a web-based publication of virtually all MIT course content. OCW is open and available to the world and is a permanent MIT activity.
Free -Ed.Net
Free-Ed.Net is committed to providing an online "school" where users from around the world can study, take courses, and participate in online community activities at no cost. This enterprise requires us to build a new kind of learning model that takes into account the technological strengths of the Internet, information and computer technologies.
ALISON
ALISON is the world's leading free online learning resource for basic and essential workplace skills. ALISON provides high-quality, engaging, interactive multimedia courseware for certification and standards-based learning. All courses on ALISON are accessible for free to individual learners. The mission of ALISON is to enable anyone, anywhere, to educate themselves for free via interactive self-paced multimedia. It is our belief that through ALISON, the cost of access to high-quality education can be removed.